Miami Music Week and Winter Music Conference are just a few short days away! You might have your bags packed already, stoked to get away from whatever terrible winter you are experiencing, and ready for a few days of some amazing beats. You've probably already picked out your must see events and subsequently purchased your tickets. We're not here to tell you what events you should or shouldn't go to. Whatever you pick though, here's a guide to get the most out of your trip to Miami.
Getting There from the Airport
You've landed at MIA or FLL right into beautiful Southern Florida, and now you need to get to your hotel. If you landed in Fort Lauderdale, a taxi to downtown Miami is around $80, and an Uber isn't much better at $50-60. Unless you're in a large group of 4 or more, I don't suggest taking either of these forms of transportation.
The absolute cheapest way to get to Downtown Miami from the Fort Lauderdale airport is to take the free shuttle from the airport to the Tri-Rail. Once at the Tri-Rail you pay about $3 to take the train South to the Metro Rail transfer station. From there, transfer to the Metro Rail, add $2.25 cash value to an Easy Ticket, and take the Metro Rail South to Government Center station. Boom, you're in Miami for $5. It takes about 2 hours depending on the next train coming, but the money saved can buy you a few drinks.
If you're coming from Fort Lauderdale solo or just with one friend, but don't have 2 hours to spare, you may want to consider taking the Go Airport Shuttle shared car service. Just walk up to the counter outside of the arrivals station, tell them where you want to go, and wait for a few more people to share your car. It should cost around $20-30 per person and it will take you exactly where you need to go.
If you're coming from the Miami airport, a cab to Downtown will cost you around $20-30. Or, take the handy Metro Rail to Government Center Station for $2.25.
Day Drinking on South Beach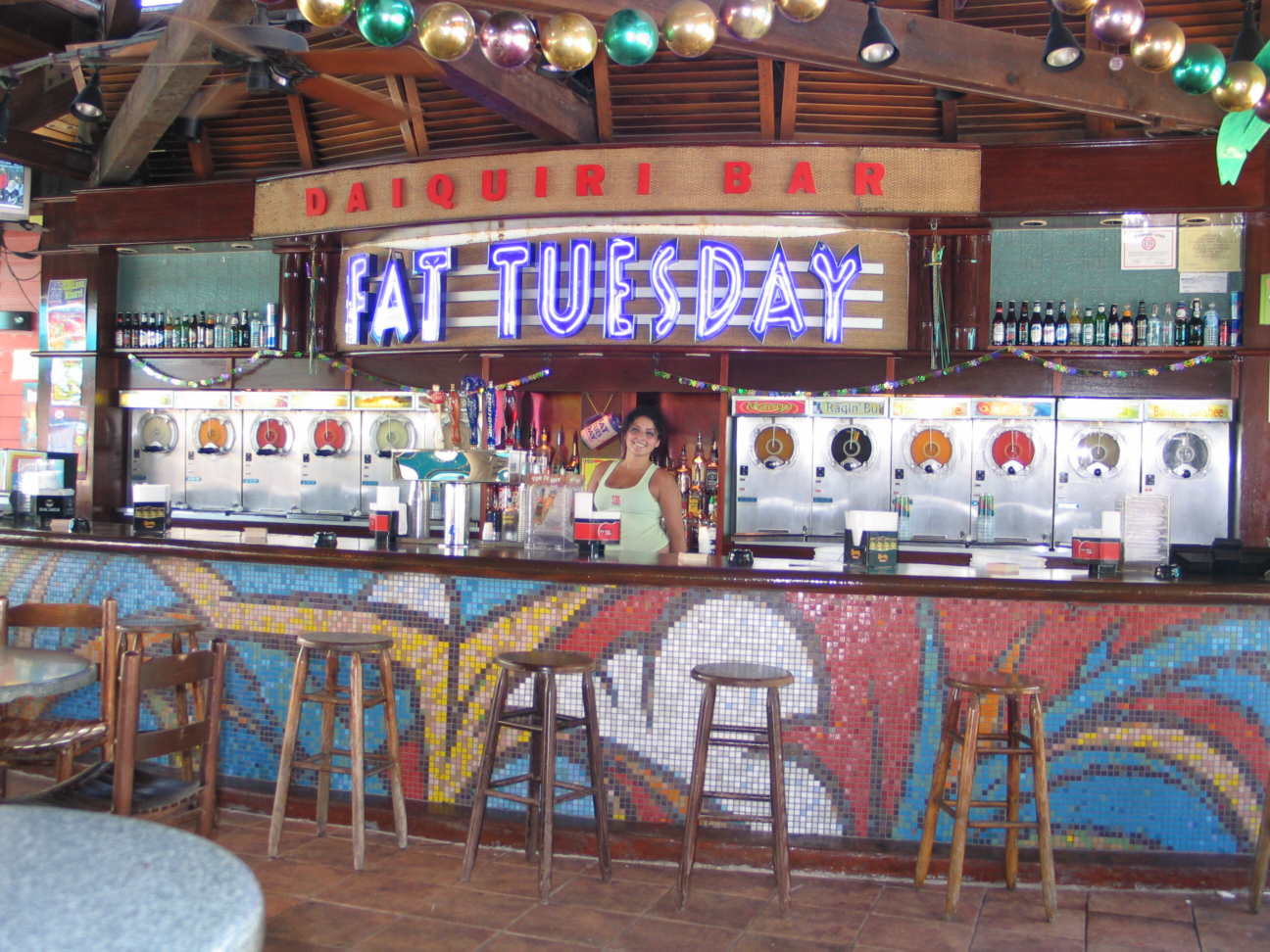 Technically, it's illegal to walk around with a drink on the streets of Miami Beach. However, there are plenty of ways to get around this, like going to the Burger King on South Beach and getting a large drink, just to use the cup for better drinks. Drink on the streets at your own discretion.
If you're looking for a frozen drink, go to Fat Tuesday, or Wet Willies. Both places are always poppin' and they have a plethora of delicious frozen drinks to choose from. My personal favorites are the classic Miami Vice, which is half Piña Colada, half Strawberry Daiquiri, or Fat Tuesday's Octane 180.
If you're looking to turn the f*** up and rage in the middle of the day, go to The Clevelander, or Mango's. The Clevelander is the equivalent of a South Beach Nightclub, but completely outdoors in the middle of the day, and bonus: it's also a restaurant and hotel. Complete with dancers and superstar DJ's, the Clevelander is always a fun time. During MMW and WMC, you may need to pay a cover charge depending on the event, but typically it's free to enter. Mango's on the other hand is a tropically themed indoor restaurant with some crazy lip syncing dance-off always happening. You can't miss this place if you're walking by, because the island music is blasting out of the building.
If you choose to go to a random restaurant on Ocean Drive, just remember that everything on South Beach is incredibly overpriced, and almost all places include the gratuity on the bill, so make sure you read your bill before tipping extra.
Notable Events:
Miami Massive, with Gregor Salto, DubVision, David Tort, and more, Nikki Beach – Tuesday March 24
Gareth Emery, R3hab, and more, Hyde Beach – Saturday March 28
Night Life on South Beach
If you made it through day drinking on Miami Beach and didn't pass out, congratulations, you're a champ. Now it's time to get dressed and go out to the club.  If you're going to LIV, Story, Mansion, WALL, SET, Mokai, Nikki Beach, or Hyde Beach for the first time, listen up now.
If you have a GA ticket to an event but didn't buy bottle service, be prepared to wait in line for a long time and be treated poorly by the club staff. The harsh reality is that these clubs make all of their money from rich old men buying tables and you're pretty much just a peasant that helps fill the club to make it look good.
It's okay though, because you're still going to have an awesome time when you get in! I suggest getting there early to ensure that you get into the club. Pro tip: dress to impress. If you're wearing some busted ass sneakers or flip-flops, you won't get in, even with a ticket. The bouncers have ultimate discretion of who get's in and who doesn't, so make sure you look good.
If you were given a random "VIP" wristband for a club from a promoter on the beach when you were day drinking, just know that this hardly means VIP. It means you can get free entry into said club, if you get in before 12. This doesn't mean that if you get in line by 12, you will get in free. You have to make it all the way through the line and to the lady at the counter inside the club with your wristband before 12 to get in for free. At 12:01, you have to pay, so again, get there early.
If you're a girl and you don't want to pay, you can try to make friends with a promoter outside of a club and he'll bring you to his table for free. 60% of the time if you and your friends are attractive, it works every time. Promoters get paid to bring hot girls into the club, and if you're deemed hot enough, you can get in free and possibly to the promoter's table with free drinks all night. This deal doesn't work if you have a single guy with you, sorry gents.
Once you've gotten into the club of your choice, be ready for $20 drinks. It's Miami, baby. But also be ready to have your mind blown by an amazing set from one of your favorite DJs. These DJs go all out for Miami Music Week, so what you hear now could be covered on every EDM blog next week on a Soundcloud rip. Enjoy the moment!
Notable Events:
Cedric Gervais, LIV – Wednesday March 25
Armin Van Buuren, Mansion – Wednesday March 25
Kaskade, Story – Friday, March 27
SIZE featuring Steve Angello, WALL – Sunday March 29
After Hours
If you're from out of Miami, you're not used to bars and clubs staying open until 5am. But in Miami, that's the standard.
When in Miami, do as the Miamians: you don't stop partying at 5am. You go downtown to Space or Elleven to keep the party going. Space Miami is known for its legendary Terrace where the music doesn't stop until the DJ feels like stopping.
On a typical night, this could be anywhere from 9am-2pm. If Loco Dice is playing (like on March 25th), it might not stop until 8pm the next day. If you don't ever want the music to stop, go to Elleven right across the street, which is open 24/7 and features burlesque dancers and a full food menu.
Notable Events:
Benny Benassi, E11even – Tusday March 24
Loco Dice, Space – Wednesday March 25
Markus Schulz, Space – Thursday March 26
Pryda Miami, Space Terrace – Friday March 27
Dash Berlin and Sultan + Ned Shepard, E11even – Friday March 27
Adam Beyer presents DrumCode – Sunday March 29
Ultra Music Festival
If you chose to go to Ultra rather than a bunch of other Miami Music Week events, be prepared for one of the most visually stunning LED light productions in your life. Ultra's stages are known for their intense lights, and you won't find this type of display anywhere else.
The energy of the crowd at Ultra is also the best in my opinion from any crowd anywhere. You can, and should hate on Ultra for a lot of reasons, but they still produce an amazing event every year.
In my experiences, the security at Ultra is pretty lax (aka non-existent), but they might beef things up this year.  Also, for safety, you should really invest in a pair of ear plugs to save your hearing, because the music is LOUD. A Camelbak is a great idea too, because March in Miami is HOT and you don't want to be dehydrated.
If you're from Buffalo, show some support for Solidisco as they make their Ultra debut at the Ultra Worldwide stage on Sunday! My only other suggestion is to check out the UMF Radio stage, tucked behind the Klipsch Ampitheater LIVE stage, because the UMF Radio stage always hosts some of the best up and coming talent.
Non-South Beach Partying
Yes, Miami Beach is the place you think of when you think of Miami, but believe it or not, there are amazing places to go to that don't require crossing the causeway.
If you're the type of person who isn't into the nonsense of a Miami Beach nightclub and you wan't to just rage without judgement, go to Grand Central in Downtown Miami. It is easily my favorite venue in Miami because it is literally a 4 wall warehouse with an amazing sound system and a giant LED screen, and it doesn't have that stuck up, "I'm better than you," staff.
Some of the featured events for the week include Bro Safari's Animal House, the Circus Party by Embrace featuring Flux Pavilion, HARD Miami, Fools Gold Miami, and Kaskade REDUX.
If you are a bit more hipster, check out Miami's Wynwood District. There are multiple venues in the area holding events such as Cafeina hosting the  Anjunadeep Miami party with Lane 8, Disclosure's Wild Life event at Soho Studios with Justin Martin, and Paradise Miami featuring Steve Lawler, Jamie Jones, and Guy Gerber at Mana Wynwood.
If you're from Buffalo, show some support for our own dubstep guru, Grabbitz, playing the Smog vs. Firepower party at Mekka on Thursday the 26th.
xxx
There you have it, the basics to have a fantastic time during Miami Music Week, coming from a seasoned veteran. Try not to have too much FOMO about which events to pick for each day, because you're already winning just by being in Miami next week. If you have any questions or comments, respond below and I will try my best to answer your questions!
Please follow and like us: